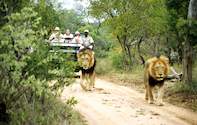 Monwana Game Lodge offers exciting morning and evening game drives where guests can see amazing wildlife, including the Big Five.
Guests are usually treated to one of the most memorable adventures they will ever have - game drives through the African bush. This is the perfect opportunity to view the amazing game and birdlife that are only found in this part of the world. This is an unforgettable African experience guests can enjoy during their safari in South Africa.
The day starts with tea and coffee in the morning. Guests then embark on a morning game drive where experienced guides will read the previous night's tracks and offer knowledgeable advice to inquisitive guests. The game drive is conducted from an open Land Rover so guests can get as close to the animals as possible. Lucky guests might even get the opportunity to see the Big Five.
After an exciting morning, guests return to the lodge to enjoy brunch followed by a swim or catch up on some much-needed sleep while giving the animals a chance to drink at the waterhole in peace. High tea is served in the afternoon while on your second game drive for the day.
At the lodge, guests can socialize over delicious sundowners while the sunset in the background signals to the animals that the end of another lazy African day is approaching. This, however, is not the end of the adventures. An exciting night drive brings out all the predators and nocturnal animals guests have been waiting to see. The roar of the Lion and the hungry laugh of the Hyena can be heard from miles away.
Your day ends with a delicious 3 course dinner at the lodge. If the weather allows, guests can enjoy a traditional South African barbecue ('braai') on the deck overlooking the Monwana riverbed. Relax around a crackling fire and hear the call of the wild in the distance.
Summers are hot in this area with temperatures reaching 40 degrees C (104 degrees F) from October through February. Winters are mild with cold evenings and mornings and last from March to September. A warm jacket during your morning drives is therefore required during the winter months on this safari in South Africa.
Cuisine
All the food served at the lodge is freshly prepared in the kitchen by trained chefs. The menu offers a wide variety of choices to suit everybody's taste. Meals are served in the dining area. In winter, guests can enjoy their meals indoors next to a warm fire and in summer, meals can be served on the patio with beautiful views of the waterhole. The lodge also boasts a wide selection of fine Cape wines and South African beers and spirits are also available.
Other Activities
Guided Bush Walks
1 hour to Moholoholo Rehabilitation Project
Hot Air Balloon Excursion
1.5 hours to the Hans Merensky Golf Club
2 hours to Blyde River Canyon and the Panoramic Route