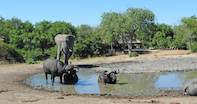 A collection of Thornybush Classic Safari Lodges in Thornybush Game Reserve, Greater Kruger Park, South Africa.
At Thornybush Private Game Reserve, we believe that the best way to get up close and personal with wildlife is on a walking safari. We know that you'll be captivated by the beauty of our landscape and its incredible animals from the moment you step foot on the reserve.
Guided activities have been designed so that you can enjoy the most amazing game drives and walking safaris in South Africa. Open 4x4 safari vehicles are used for game drives hosted by trained and experienced guides, trackers and rangers - these vehicles allow for optimal visibility and comfort as you travel through Thornybush's vast wilderness.
If you're looking for an authentic classic safari experience without sacrificing luxury or comfort, then stay at a classic safari lodge in Thornybush Private Game Reserve with comfortable accommodation and friendly staff.