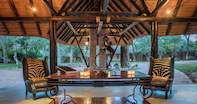 Thornybush Luxury Safari Lodges in Thornybush Game Reserve, Greater Kruger Park, South Africa.
There's something truly magical about a stay at a Thornybush Private Game Reserve luxury safari lodge.
Each suite has been carefully designed to provide the utmost luxury. The open fireplaces, private plunge pools, and additional outside showers are just the beginning. Once you settle into your suite, you'll be able to enjoy the view from your private deck and personalised service from dedicated staff members.
But it's not all about the rooms - we know that what really makes a stay special is the experience itself! Join an exciting early morning game drive with expert guides who will help you spot animals like lions, leopards, elephants, rhinos and more.
You'll also get the chance to see hundreds of other species of animals and birds on your way through Thornybush Private Game Reserve..
If you're feeling brave or want something different on your safari trip, try a guided bushwalk through this beautiful natural habitat where there are even more opportunities for adventure!