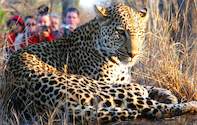 No stay in the African bush is complete without intensive game viewing excursions. From walking safaris to game drives, the entire ecosystem is explored. Guests can encounter wildlife in its most natural form as they navigate their way across the landscapes alongside trained guides, rangers and trackers.
Specialized activities at Thornybush Private Game Reserve in South Africa provide guests with options for viewing game along the pathways in walking safaris and the majestic species in game drives. Open 4x4 safari vehicles are used for the game drives hosted by trained and experienced guides, trackers and rangers.
The open vehicles allow safari-goers to witness unfiltered views of their surroundings and are an opportune time to capture memories on film.
Daily Game Drives
The harsh African climate is avoided by both the daily game drives and the resident wildlife, which become active during the early morning and late afternoon of each day. Game drives usually take place twice daily, in search of the awakening life and then later as the predators prepare to hunt for prey. Animal trackers are often present on the drives and share their knowledge on studying the spoor as well as other natural elements to determine the presence of nearby wildlife. Guests are included in the tracking process and the acquired skills can be used in future safaris.
Game Viewing at the Waterhole
Waterholes are an ideal place to spot game as herds make their way down for a drink or simply to frolic in the water. Witness the interaction, and sometimes conflict, between the diverse wildlife families. Some lodges are spoilt with views directly over the waterholes, creating the perfect setting for watching the sun disappear into the horizon. Not all game viewing excursions encounter wildlife on an intimate level, certain excursions focus on the wider region, its landscape, fauna and flora.
Hot Air Balloon Safaris
Hot air balloon safaris are a spectacular way to view the endless plains of the Thornybush and neighbouring regions from above. The Drakensberg escarpment can be viewed from a light aircraft or a helicopter as an hour-long flight soars over the Blyde River Canyon and Gods Window.
Both these excursions are offered at an additional cost at N'Kaya Game Lodge, Serondella Game Lodge, Chapungu Luxury Tented Camp