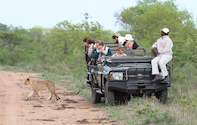 Unwind in the comfort of Waterbuck Lodge or venture into the bush in search of the numerous wildlife species residing in the savannah plains of Thornybush Private Game Reserve.
Morning Game Drives
After an early wake-up call and a morning snack, you will be driven out into the bush in an open safari vehicle. Thornybush is a private game reserve in the Greater Kruger Area. Certain areas allow for you to embark form the vehicle in search of the cause of the spoor.
Afternoon Game Drives
After a high tea, you will hop onto the 4x4 vehicle once again, this time in search of the nocturnal bush life. Various times of the day ensure sightings of differing species, so have your torch handy as you uncover nocturnal creatures.
Bush Walks
Escape into the bush on a leisurely walk to learn more about the fauna and flora of the bush, or accompany a ranger and tracker as they follow the tracks left in the sand. Walks allow you to get a closer look at the plants and smaller creatures and listen to the traditional tales behind the plants and trees told by your guide.
Hot Air Balloon Excursion
What could be more romantic than a hot air balloon safari as dawn breaks over the Blyde River. You may be lucky enough to spot wildlife, else just soak up the spectacular scenery from above.