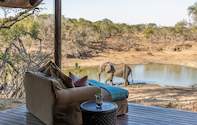 The Thornybush Game Reserve is home to Waterbuck Lodge, a classic South African safari lodge with a waterhole which attracts wildlife.
Big Five game viewing spot
Dine under the stars in the fireside boma
Swimming pool overlooking the natural surroundings
Personalized attention to each guest (only 4 suites)
Thornybush Private Game Reserve is home to an active ecosystem with an abundance of wildlife species, consisting of 147 mammals, 114 reptiles, 507 birds, 49 fish, 34 amphibians and 336 trees. Wildlife enthusiasts or first-time safari-goers will be pleasantly surprised during their stay at Waterbuck Lodge. With an ever-present abundance of wildlife, the savannah landscape provides for great game viewing.
The friendly and helpful staff will add personalized detail to your stay, attending to all your concerns and deepening all your delights. With only 4 suites, Waterbuck Lodge is a great getaway for families or groups (the entire lodge can be booked for exclusive use on request).
Spend some time in the cosy lounge around the fireplace or find relaxation in the tranquil waters of the swimming pool in between game drives. Evenings at the lodge are filled with romance and magic as you dine outdoors during a traditional boma evening.
The welcoming suites will provide you with a comfortable night's rest. Allow the sounds of wildlife to lull you to sleep and be prepared to meet the animals face-to-face when you awake in the morning and embark on a dawn game drive.
Waterbuck Lodge Facilities
Swimming Pool
Lounge
Waterhole
Boma
Deck with daybeds
Bar
Laundry service