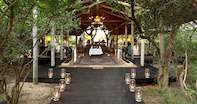 A selection of the finest quality Thornybush Exceptional Safari Lodges in Thornybush Private Game Reserve.
Five-star sophistication meets the African wilderness. At these ultra-luxury Thornybush safari lodges you can indulge in the finest cuisine paired with South Africa wine, at a private dining spot under the stars.
Retire to your suite which has every creature comfort you could need after a day of thrilling guided game drives to spot the Big Five wildlife.