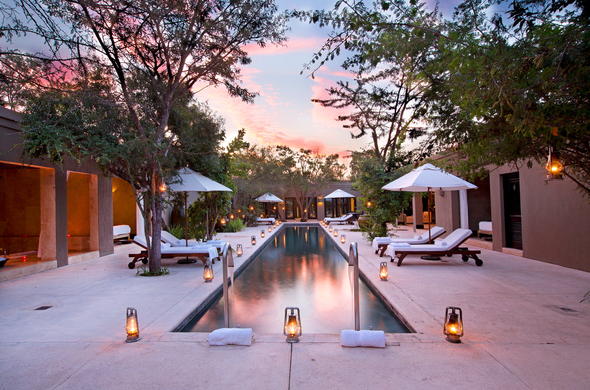 Experiencing unforgettable luxury and sophistication in the heart of the African bush at the magnificent Royal Malewane Safari Lodge.
Stepping out of the game drive vehicle and arriving at the magnificent Royal Malewane safari lodge is like stepping down from reality and find yourself in a completely new world. A world filled with every luxury you can possibly imagine, and then even more.
Entering Another World
As you glide in through the huge entrance, past the exquisite statues of the Cheetahs and into the open thatched guest area you are surrounded by
opulence, sophistication, beauty and true style
. In an instant Royal Malewane somehow manages to effortlessly rise above every level of luxury and superior quality I have ever had the opportunity to experience while still maintaining the wild aura of the African bush.Walking further through the lounge area, across the deck I gasp as I take in the sight that opens out before me,
the glory of the African bush
surrounds the lodge from every angle, ensuring you feel completely immersed in your environment.
Luxurious Accommodation
The
friendly staff offer us a refreshing drink
as our luggage is whisked away to our room. You immediately noticed how well trained the staff are as every movement is done as unobtrusively and smoothly as possible to ensure the least disturbance while endeavouring to see to your every need.As the manager gracefully walks us down the wooden boardwalk to our suite
we are reminded that Royal Malewane is an unfenced lodge
and that we will need to call the reception and arrange a guide should we wish to venture to or from our rooms at night.
As we saunter towards our room, the friendly manager regales us with exciting tales of his one experience where he walked down to the reception area only to be told that a Lioness and her cubs had been seen just centimetres from where he had walked only a few minutes before.
These tales are told in a humorous fashion, but one cannot help but hear the hidden note of warning in the story; this is really Africa and you are not just surrounded by friendly Nyala munching on some grass near your room, all of the game animals can and do access all of the bush.
As we reach our room and the large heavy wooden door swings open you cannot help but gasp quietly. Stepping through the doorway you enter a high ceilinged thatched room with large windows looking out onto a
wooden deck with an azure rim flow pool
and across into the bushveld. You cannot help but feel like you must be dreaming.
A Private and Exclusive Getaway
Located in Thornybush Private Reserve in the Greater Kruger National Park region of South Africa, Royal Malewane is a private and exclusive
safari lodge that only takes a maximum of 20 guests
at a time. Aimed at providing the highest levels of service every guest at Royal Malewane is treated like royalty.
Phenomenal Game Drives
Two daily guided game drives, one in the early morning and one in the late afternoon and into the evening, sees guests exploring the surrounding game reserve accompanied by a highly skilled local tracker and your game ranger.
The small number of guests ensures that you receive the utmost personal attention throughout every encounter with any staff member. This was put to the test when the ranger enquired if there was anything specific we would love to see. Replying rather flippantly, that yes, I would love to see an Aardvark,
I should not have been surprised when the next evening as we were heading towards the lodge at the end of our evening game drive, we rounded a corner in the road and 'happened upon' an Aardvark.
Decadent Gourmet Cuisine
Aside from the utmost luxury in all the fittings, spaces and fixtures, and the phenomenal game viewing experiences, of which there were so many highlights I would need an entire book to record them in, the lodge also prides itself in
producing top quality gourmet cuisine
. There was no doubt in our minds that every morsel of food that we consumed had been expertly and lovingly prepared using the freshest of ingredients.Dining in the evenings was treated as a special occasion with the venue of each evening meal changing to ensure every guest at the lodge has the
opportunity to experience a variety of settings
. The one evening we were venturing back to the lodge after, yet another, incredible game drive, when the range turned a corner and we found ourselves driving towards a fairy-tale like Bedouin tent, in the middle of the bush, lit up but hundreds of candles and lamps. It was there that we were served an incredibly delicious 3 course meal - never in my dreams had I expected anything as distinct and romantic as that experience.
Pampering Spa Treatments
Royal Malewane also boasts an enticing Spa where we spent a relaxed afternoon swimming in the lap pool and having all the knots and tension in our
muscles expertly massaged away by the talented therapists
. The spa is positioned hidden away from the main lodge and rooms to ensure the utmost peace and tranquillity and after my treatment I thoroughly enjoyed being able to quietly drifted off into a languid doze on one of the day beds surrounding the pool.
Day of Departure
In what felt like an eternity and no time at all our day of departure had arrived and we sadly packed our bags. The Royal Malewane experience is one I will never forget. We arrived feeling drained, weary and tired and left feeling relaxed, pampered and perhaps a good kilogram or two heavier.
Waving our new found friends good-bye we climbed up onto the game viewing vehicle and promised each other we would return as soon as possible.
Read more on Royal Malewane Safari Lodge
Thornybush review by Katie Price